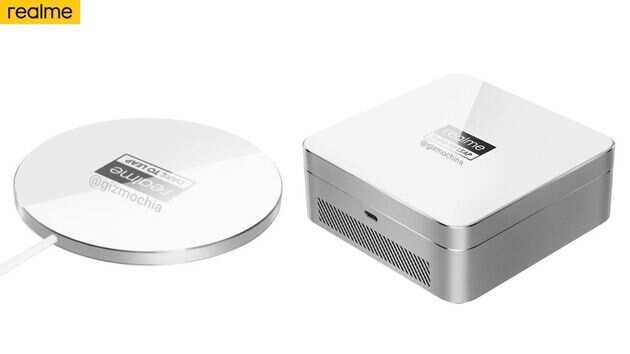 Realme's upcoming MagDart charging device will indeed be a magnetic wireless charger that will have two variants - one appears to be noticeably slim, while the other sports a bulkier design, according to a leak by GizmoChina. Looking at the images shared by the website, the slimmer version seems to have been inspired by Apple's MagSafe charger.
Although the finer details of the chargers have not been revealed, the thinner version will apparently offer 15W wireless charging and its body will be sleeker than the Apple MagSafe, the report said.
On the other hand, the vanity box-like bigger wireless charger appears to support faster wireless charging as it has a USB-C port for possibly connecting to a fast-charging adapter. There is a grill below its USB Type C port, which likely suggests an airflow to keep the temperature under control during charging.

It is to be noted that the Realme MagDart will be the first Android device featuring magnetic wireless charging like Apple's MagSafe. It could mark a significant milestone for Android, especially if it can compete with modern-day fast wired charging technology. A potential MagDart power bank could also be round the corner, should Realme decides to work further on future wireless charging accessories similar to what Apple already offers.

It is still a matter of speculation by when Realme plans to launch supported smartphones to run MagDart chargers. The Realme GT Master Edition and GT Master Explorer Edition rolled out in China yesterday lack the wireless charging feature. So, there is an expectation that Realme's next premium offering could include wireless charging with magnetic attachments.

This is not the first wireless charger from Realme. It launched a 10W Qi wireless charger a few years ago setting off speculation that the company will soon come up with a phone with wireless charging. But that never happened and Realme stopped selling that wireless charger eventually.