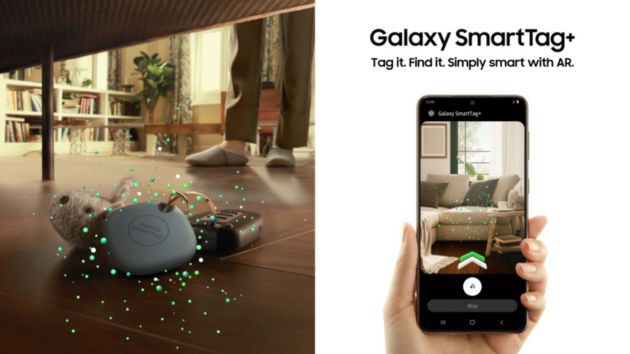 Samsung has launched the Galaxy SmartTag+ --- an upgrade to its SmartTag --- that uses augmented reality (AR) technology to visually locate lost possessions using smartphone's camera. Samsung had first announced its Tile competitor known as the Galaxy SmartTag,, a Bluetooth-powered locator, during its press event in January alongside the Galaxy S21 family of phones at a price of $29.99.
Galaxy SmartTag+, the newest iteration of Samsung's Galaxy SmartTag, can be attached to everyday items, like a backpack or keychain, so they can be precisely and easily located through the SmartThings Find service on your Galaxy device.
The SmartTag+ features the same basic design as the regular Galaxy Tag but comes in only two color options - black and grey. The added UWB chip allows users to track their belongings with greater accuracy compared to Bluetooth. SmartTag+ can also leverage both UWB and Bluetooth for AR tracking which guides you to its location in real-time.

The SmartTags+ work in conjunction with the Samsung's SmartThings Find app, which lets you track the location of your Samsung smartphone and other devices. You'll now be able to use the app to track your SmartTags+ as well.

Galaxy SmartTag+ is compatible with a Samsung Galaxy smartphone running Android 8.0 or higher, RAM of 2GB or above and opt-in for location tracking through the SmartThings Find service of the SmartThings app. Furthermore, the device uses AR technology that visually guides the user towards the missing item using the smartphone's camera.