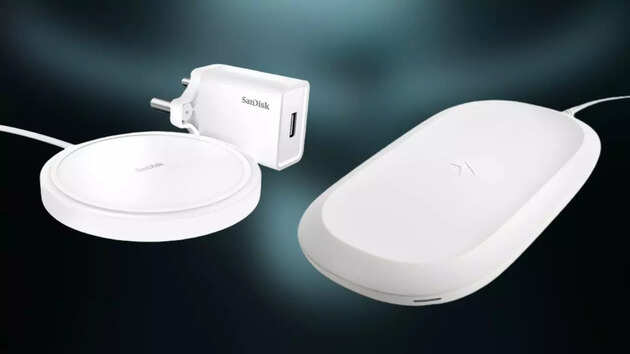 Western Digital (WD), the American storage devices manufacturer, has launched two new products in its SanDisk iXpand Wireless Chargers portfolio. Under the portfolio, the company has launched SanDisk iXpand Wireless Charger Sync and SanDisk iXpand Wireless Charger 15W with an adapter. Through the launch, the company has entered into the wireless charging segment in India.
The SanDisk iXpand Wireless Charger Sync comes with dual functionality of wireless charging and automatic data storage and backup for Qi-compatible devices. Both iXpand Wireless Chargers are compatible with the iPhone 8 and newer as well as several Samsung Galaxy devices. The AirPods Pro and other Qi-compatible devices can also charge wirelessly on the iXpand 15W Wireless Charging Pad.
Price of SanDisk Ixpand Wireless Charger Sync in India

The new SanDisk iXpand Wireless Charger Sync with 256GB storage comes for Rs. 9,999. The iXpand Wireless 15W fast charger with QC 3.0 adapter, on the other hand, is cheaper and comes at Rs. 2,999. If one wants to buy only the SanDisk iXpand Wireless Charger 15W fast charger without the adapter, he can buy it at Rs. 1,999. Both wireless chargers come with a two-year limited warranty. Both the chargers are available on e-commerce sites like Amazon and retailers like Croma, Reliance etc.

Specifications of SanDisk iXpand Wireless Charger Sync

Interestingly, the SanDisk iXpand Wireless Charger Sync automatically backs up photos and videos in full resolution and frees up space on your device. The backups happen to the charger as soon as you place a phone on it. The charger can also store each user's data, so nobody else in the family can affect other people's usage. Up to three people in a family or group can share the device for storing the data.

The iXpand backup functions via a wireless connection, iXpand Wireless Charger and supports devices running on and iOS 11 or Android 5.0 and above. One can download the iXpand Wireless Charger app from the App Store and the Google Play store.

The SanDisk iXpand Wireless Charger is designed to deliver up to 10 Watts of power, and will charge through most cases between 0.25mm and 3mm thick. It comes with a 6-foot (1.8m) cable.

Specifications of SanDisk iXpand Wireless Charger 15W

The SandDisk iXpand Wireless Charger 15W comes with a circular base. A SanDisk AC adaptor accompanies the charger and also comes with a 4.5-foot (1.5m) USB Type-C cable. It has a rubber ring that is designed to protect your phone from slipping. Its key features include battery charging, temperature control, detecting foreign objects and keeping the batter safe. As per company information, it charges through most rubber, plastic, and TPU cases that are less than 5mm thick.