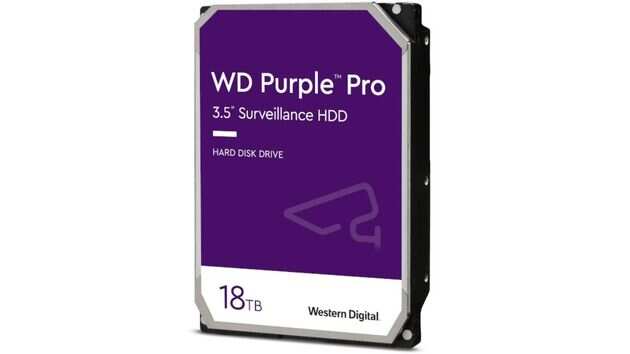 Storage devices have gained traction amidst the rising demand for more space. And manufacturers have taken note of the demand. They are scaling up and expanding. Western Digital, the famous manufacturers of digital storage technologies, has launched WD Purple Pro hard disk drive product line. The line will be the latest in the company's WD Purple family of products.
According to news reports this week, Purple hard drives are optimised for use with Digital Video Recorders (DVR) and Network Video Recorders (NVR), and will now ship in 8TB, 10TB, 12TB, 14TB, and 18TB capacities.
The company is looking to bring products with improved capabilities. Commenting on the launch, Jaganathan Chelliah, Director of Marketing, India, Western Digital, said: "With the addition of WD Purple Pro product line, our WD Purple portfolio of smart video storage products are well-positioned to harness the capabilities of Artificial Intelligence. Unlike the traditional CCTV cameras, smart CCTV cameras today capture and transfers multiple video streams for AI-based real-time and batch analytics. Our WD Purple Pro HDDs with All frames AI tech has the capability to handle the intense workload and enable users to derive deep insights."

The specifications

The latest WD Purple Pro product line features specific technologies designed for AI-enabled network video recorders (NVRs), video analytics servers, storage arrays and storage/server solutions. The Pro hard drive has several qualities, including the following:

The new hard drive will have higher performance and work capability. The product line supports up to 550TB a year workload rating. These come with Enterprise-class durability to work seamlessly in large-scale, high-density video analytics servers and cloud solutions.

An Enhanced AllFrame AI technology enables video streams from up to 64 HD cameras to be recorded concurrently, while simultaneously handling up to an additional 32 AI streams for AI functions.

As a result, the product line boasts of high reliability and capacity solutions. These features help retain and feed thousands of hours of training video to enable effective deep-learning and AI algorithm development.

Price

The WD Purple Pro HDD in 4TB is priced at Rs. 8999, 8TB at Rs. 25999, and is available in capacities up to 18TB. They are available for purchase from leading IT channel partners across the country, including Isha Enterprise, Ace Metro and ADI.

According to news reports this week, the 18TB drive is expected to become available next month and will be followed by a 1TB WD Purple microSD card in November. The latter will find use in surveillance cameras and will act as a reliable backup storage solution.