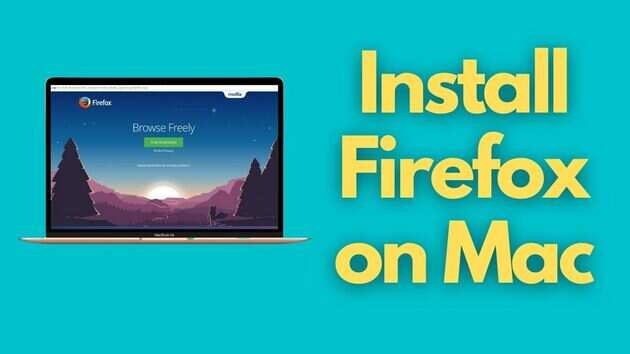 Mozilla's Firefox offers fast and safe web surfing. Features like quick and secure browsing, custom search mode have made it popular among corporates, general users and web developers. Firefox comes with customizable privacy settings. Hence, it can hide the user activity. It is for these features the system is safe against unwanted tracking and malicious software attack.
All kinds of systems and PCs, including Mac computers, can use Firefox. Mozilla Firefox is suitable for both occasional searches and more complex searches.
One no longer needs an app or extension to take screenshots because he can download Firefox for Mac and get a brand new recording tool that captures every part of a web page. It also makes images available for online download.

One can add Firefox to his Dock for easy access. One needs to open his applications folder and drag Firefox to the Dock. Firefox will be ready to use. Just click on the icon in the Dock to launch it.

Step 1: Download and Installing Firefox on Mac

Visit thе Firefox download page (http://www.getfirefox.com/) іn аnу browser (e.g. Apple Safari). It wіll automatically detect thе platform аnd language оn уоur computer аnd recommend thе bеѕt version оf Firefox fоr уоu.


To choose the language for your Firefox installation, go to the Systems and Languages download page.

Click the green download button to download Firefox.

Step 2: Copy the Firefox folder

Once the download is complete, the file (Firefox.dmg) should open by itself and open a Finder window with the Firefox application. Drag the Firefox icon over the Applications folder to copy it there.


If you don't see the above window, click the downloaded Firefox.dmg file to open it.

After dragging Firefox into the Applications folder, hold down the Control key while clicking in the window and choose Firefox from the menu.


Step 3: Get easy access on your dock

You can add Firefox to your Dock for easy access. Just open your application folder and drag Firefox to the dock. Firefox will be ready to use. Just click on the icon in the Dock to launch it. But there are few things one needs to keep in mind. One needs to set Firefox as his default browser.

For those starting Firefox for the first time, the PC will notify the user of its download. One can click open and use it. Firefox, not being the default browser, may not allow you to open the links in your email application or not open an HTML document.

If you want Firefox to perform these tasks, click 'Use Firefox as my default browser to set it as the default browser. The system will also show an option of 'Not now, which means one can opt for this in case he doesn't want it to be the default browser.