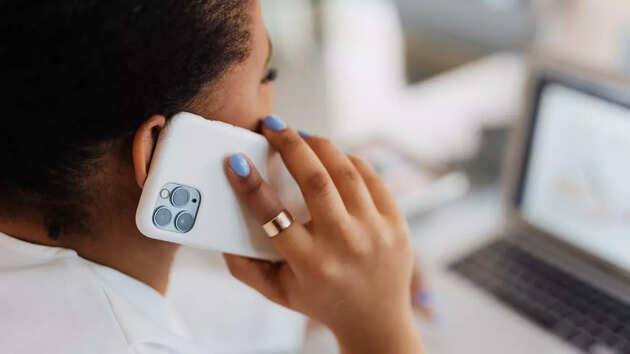 What's the logic behind recording phone calls? The first that comes to mind is "In case, we missed something". There are business functions where phone calls are regularly recorded for training and quality purposes. But, at times, the recording ends up giving more. It not only monitors the staff and makes businesses compliant. These come in quite handy at the time of audit. Also, hearing previous conversations and interactions makes complete sense for sales professionals, working on their sales target objectives. It may help them improve their product sales strategy. Moreover, call recording serves as a line of defence in times of any dispute on details.
But not all find the idea of recording a lucid one. To ask whether recording a phone call is righteous is to land into another battle between black and white. Many people see it as an area with a grey choice. Most commonly, it is strongly advised to not record a phone call without permission.
A person from the other end must know that he/she is being recorded. It is the reason behind several companies using it as a disclaimer before doing so. It is a regular feature for calls with customer service representatives. Even in telephonic interviews, the recordings are performed on grounds of acceptability.

Call recording is the process of collecting audio associated with phone calls. In Android devices, the process is straightforward. There are several recording apps available on the App store. These can help you record phone calls and even the screen activity without any hassle.

There are small and different hacks available to record calls on the iPhone. For instance, putting the phone in speaker mode and using a second phone or a voice recorder to record, is a quick and smart move for those who are not tech-savvy. However, in such a scenario, the quality of the recording may turn out to be poor.

But, for a high-quality call recording on iPhone using a Mac, it is recommended to try the following steps:

Step 1: Install Audio Hijack
Install a software called Audio Hijack on the Mac. It is said to be a powerful audio recording app by Rogue Amoeba, an indie app developer. Though it offers paid access, one can record for up to 20 minutes in one session of its free trial. Audio Hijack costs USD 49 (approximately INR 3200).

Step 2: Open Audio Hijack
Then, open Audio Hijack and press Cmd + N.

Step 3: Select Session then New Session
Click Session in the top bar and tap on New Session.

Step 4: Select Session template
Select a session template and double-click on Application Audio.

Step 5: Select Application
Three blocks, Application, Recorder, and Output, will appear on the screen.
Click on the Application block and choose FaceTime from the drop-down menu under Source.

Step 6: Select record
Now, while you record the phone call from Mac, just hit the big record button in Audio Hijack. It is on the bottom left of the app window.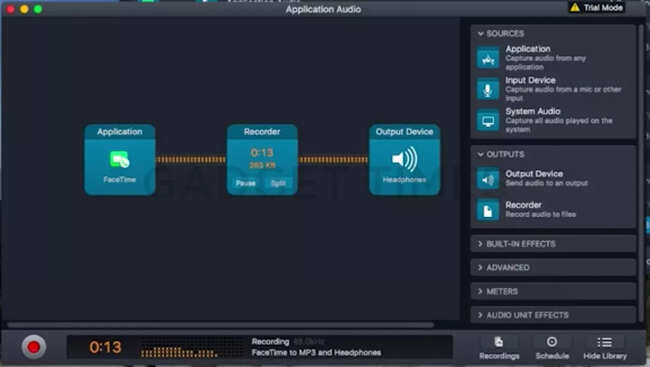 Similarly, one can stop the recording by tapping on the same button again.

Step 7: Open Recordings to access files
To access the recorded file, click on the 'Recordings' option displaying on the bottom-right of the app window.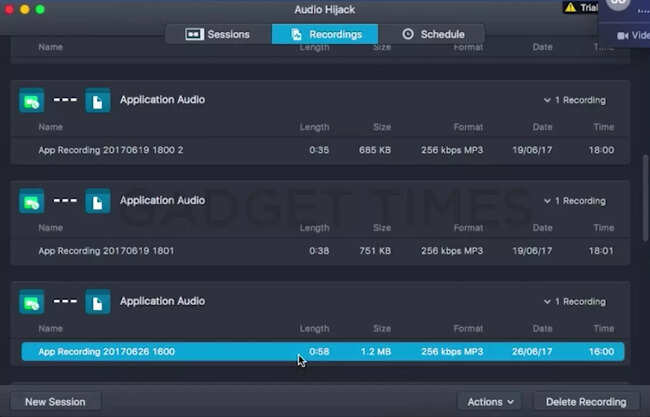 And, yes, your good-quality recording is right with you. Before trying this process, one must ensure a proper Wi-Fi range. It is one of the reasons that this method is best suited for recording at home or in offices.