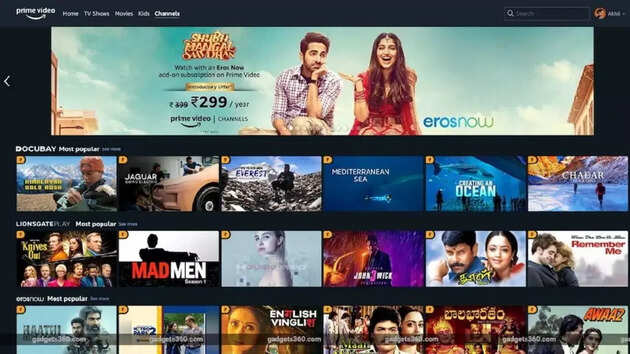 Amazon Prime Video launched a bundle option in India on Friday to entice potential customers and improve the user experience for the existing ones. The bundling option will be available for both local and global streaming services. Amazon Prime Video users can now stream content from multiple over-the-top (OTT) streaming platforms.
According to Amazon India, the newly introduced service would allow customers to purchase subscriptions for multiple streaming services on one platform with their Prime membership.
Gaurav Gandhi, the India head of Amazon Prime Video said, "We believe besides solving customer problems... multiple apps, multiple logins... it also solves a lot for our partners where they are able to get the benefit of Prime Video's reach and ubiquitous distribution."

Amazon Prime Video has entered into partnerships with streaming platforms like Mubi, Lions Gate Entertainment Corp and Discovery Inc to offer the bundling service.

Amazon charges Rs.999 per customer for its premium membership. It includes early sales access, video streaming, music and free product delivery. According to the company, Prime customers will be the first to receive the new bundling service.

Amazon Prime Video launched the service at a time of increased competition from global and domestic competitors in the booming OTT industry. This could work in favour of the company. It's also noteworthy that India is going to become the 12th country in which Amazon has its bundled services.

The OTT platform has also been betting on Indian sports. It has acquired the rights to broadcast India's cricket matches in New Zealand. Experts say the partnership is likely to bring the company benefits, even though it remains to be seen how it will work.