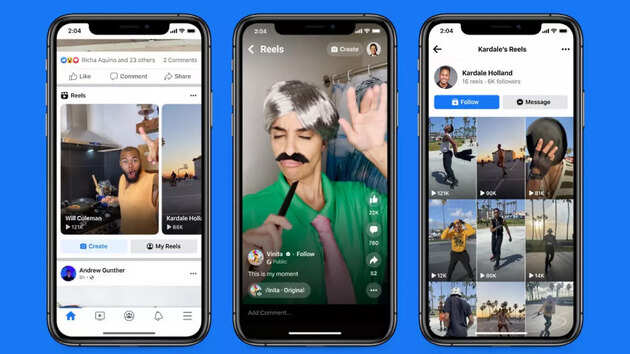 Facebook has announced that it has started rolling out Reels on Facebook for iOS and Android apps in the US. It has been announced after almost one-month long testing. Under Reels, Facebook is providing a new bonus programme to help creators earn money if people view their reels. The bonus bundled with Reels Play is paid to eligible creators based on the performance of their reels. The bonus payment option for creators will be available on both Facebook and Instagram. Initially, it will start in the US on an invite-only basis and then expand globally.
Facebook plans to test sticker ads and banner ads in Reels. Similar to Instagram Reels, the Facebook Reels also will be testing full-screen and immersive ads between reels. As per Facebook, the plan will help small businesses and brands connect with their new audiences.
The social networking giant is testing Reels on the app with limited users. Later, it will be shown in the News Feed and within groups. Additionally, Instagram users will also be able to share Reels on the Facebook app.

As per the company, Reels on its app has been designed to provide people with a way to express themselves, discover entertaining content, and help creators enhance their reach. It is evident that many users on Facebook watch videos within the app, so Reels should quickly become popular among Facebook users.

It all started last year when Facebook introduced Reels on Instagram which is a short-form video platform in many countries. Seeing the good response received from people, the company is now rolling out Reels on the Facebook app.

As stated above, currently Facebook is testing Reels in the US, India, Mexico, Canada but later on, it plans to expand it to the rest part of the world.