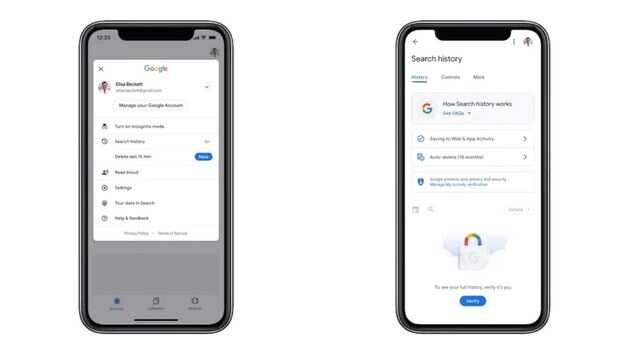 Google has launched a new privacy option that allows users to swiftly remove their previous 15 minutes of saved search history. The feature is now accessible in the Google app for iOS and will be available on Android smartphones later this year. The functionality, which was first introduced at Google I/O in May, is now available on iOS devices. This is important if you share your cellphone with others and don't want to go into settings to clear history manually. If the option is enabled, the Google app can also erase search activity after 3,18, or 36 months.
Google said in a recent blog post that it has put out a new privacy option for the Google app on iOS. This adds a 'Delete last 15 minutes' option to the app, allowing you to rapidly remove your Web and app activity history for the last 15 minutes if you need to share your smartphone with someone else. When you touch on your profile in the Google app for iOS, you'll see the choice. Google also has an incognito mode for searching and an auto-delete feature, but this new option simplifies things.
This functionality is now only accessible on iOS, but it will be available to Android users later this year. The shortcut was discovered in Google app version 167.0.382489606.

To recall, Google allows you to choose whether or not to save Web and app activity on Google sites and applications on both iOS and Android. If you enable this function, you will see an auto-delete choice with three options: 3 months, 18 months, and 36 months. This indicates that the search history will be cleared every three, six, twelve, or thirty-six months. It's set to 18 months by default, but you can alter it by going to the Google app, touching on your profile icon, and selecting Search history. You should see the Auto-delete feature here, where you can specify the duration. You can manually remove your Web and app activities at any time, regardless of the auto-delete feature.