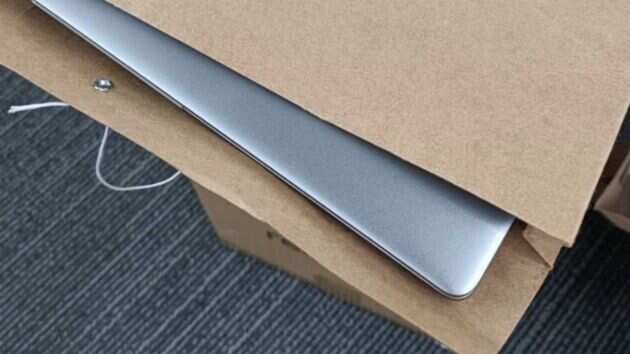 Realme CEO, Madhav Sheth, has previewed the introduction of the Realme laptop in India on Twitter. Sheth has tweeted an image that looks to offer a look at the first Realme laptop from a paper bag, similar to how Steve Jobs revealed the first-generation MacBook Air back in 2008. The Chinese firm appears to have been working on computers for quite some time. Realme's latest initiative might pit the company against Xiaomi, which sells laptops under the Mi and Redmi brands.
Madhav Sheth, the company's CEO for India and Europe, has teased us with a cryptic teaser on Twitter, which features an image of Realme's first laptop. The laptop appears to be finished in the same way as Apple's MacBook. However, it's unknown whether the laptop is made of a unibody aluminium chassis or plastic.
Although Sheth did not officially confirm that the image is linked to the new Realme laptop, he hinted to the launch plans in his tweet by employing a binary code that translates to "Hello World!" – a popular computer programming introduction phrase. He also challenged his followers to guess the new product's name. All of this suggests that the company is working on a new product, which may be a laptop.

By running a survey on its forums last month, Realme hinted at its ambitions to launch laptops. "We have been seeing tons of requests for Laptop, and we want to better understand your needs," the company had explained in the survey.

In January, tipster Mukul Sharma reported that Realme laptops could be available as early as June.

Realme is now preparing the introduction of the Realme GT in worldwide markets, including India, in addition to its laptop launch. In March, the flagship smartphone featuring the Qualcomm Snapdragon 888 SoC made its debut in China.