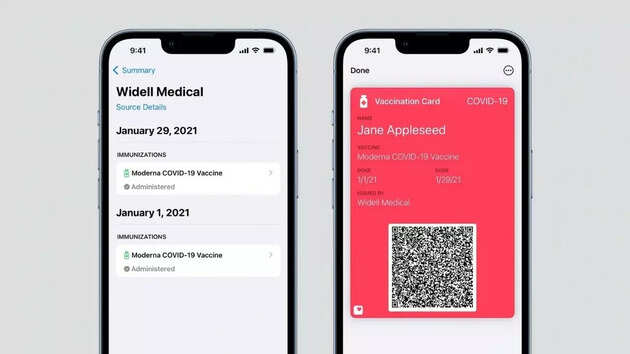 Apple users will be able to add verifiable COVID-19 vaccination cards to the Apple Wallet after iOS 15.1 beta launch by Apple on September 21. Once the update is installed on the device, users can upload their vaccination status to the Health app, and then a vaccination card will be created in Apple Wallet. It will add convenience to the iPhone users while they need to show their vaccination status at airports or other institutions.
According to Apple, the new iOS feature is facilitated by the international SMART Health Cards standard (already in use in several states in the US), which helps in producing proof of vaccination. Users just need to sign in with a private key and then create a public key to verify the information.
The SMART Health Cards standard also helps the iOS 15 users to store verifiable vaccination and test results in the Health app. The records can be shared through QR codes, downloadable files, or healthcare providers who use Health Records on iPhone.

Apple has also assured its customers that strict privacy measures and guidelines are laid out to secure personal data. Moreover, it is clarified by Apple that the company would not have any access to the imported or shared records of the users. Also, the users have been informed that all information must be encrypted and it should be securely stored while data is transferred. Furthermore, Apple would not be able to see vaccination cards or even how users have used them.

It should also be noted here that the organisations that issue SMART Health Cards will soon be able to use a new button to let users know that they can download and store their vaccination information in the Health app. The associated artwork and usage guidelines will be unveiled soon.