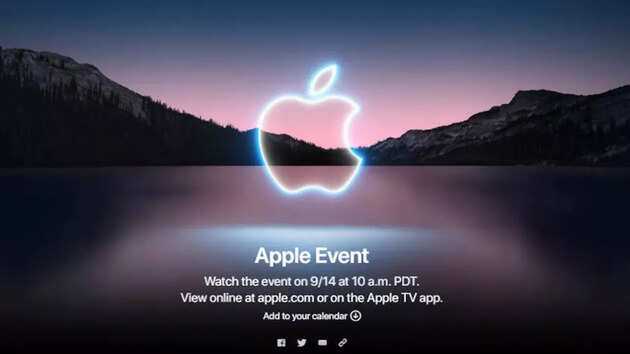 Tonight, September 14, Apple will hold its iPhone 13 announcement event. Last week, the media received an invitation to a virtual 'California Streaming' event, and a few leaks offered us a hint of what to anticipate, albeit Apple has managed to cut down on leaks this year. The event begins at 10.30 p.m. IST, and the iPhone 13 series, as well as the Apple Watch Series 7 wearable, are likely to be introduced. Although the third-generation AirPods were scheduled to be introduced tonight, a late leak says they may not be. Apple is expected to release four iPhone 13 models: the iPhone 13 small, iPhone 13, iPhone 13 Pro, and iPhone 13 Pro Max.iPhone 13 launch event: How to watch livestream

On September 14, at 10 a.m. PDT, or 10:30 p.m. IST, Apple will have their California Streaming event. Viewers who are interested in attending the event can do so by going to Apple's event page. It will also be streamed on Apple's official YouTube page, with consumers able to set a reminder to receive an alert when the streaming begins. The presentation will be available to Apple TV users via the app. The event can be accessed on the Apple Podcast app at any time after it has ended. Alternatively, fans can watch the webcast of the iPhone 13 announcement event below:

iPhone 13 series expected specifications, features

According to rumours, the iPhone 13 will have smaller notches than last year's models and larger camera sensors to absorb more light. The iPhone 13 Pro and iPhone 13 Pro Max are said to boast improved ultra-wide cameras in the latest series.

The normal iPhone 13 and iPhone 13 mini are said to come with 64GB and 128GB of storage. The iPhone 13 Pro and iPhone 13 Pro Max, on the other hand, are expected to come in storage capacities of 128GB, 256GB, and 512GB. This year's iPhone 13 Pro and iPhone 13 Pro Max models may also include a 1TB storage variant, according to rumours.

The iPhone 13 and iPhone 13 mini are expected to be available in a variety of colours, including Black, Blue, Pink, Purple, (PRODUCT) RED, and White. The iPhone 13 Pro and iPhone 13 Pro Max, on the other hand, are believed to be available in four colours: black, bronze, gold, and silver.

The overall weight and thickness of the iPhone 13 series are projected to grow. In comparison to previous year's model, the iPhone 13 Pro Max is said to have an 18–20% bigger battery. The Pro models may have a 120Hz refresh rate, but while in Low Power Mode, it is said to throttle to 60Hz.

According to rumours, the iPhone 13 will have a portrait cinematic movie function that uses an electronic image stabilisation (EIS) mechanism called "Warp." This will allow users to record video with a blurred background. The camera's optical image stabilisation (OIS) mechanism is touted to convert to a less aggressive and more "smooth" mode of operation. The night mode feature is intended to be enhanced so that it can recognise when there are stars in the scene and modify itself internally. This is accomplished with the help of a new algorithm that analyses structures, resharpens, and adjusts shadows in nighttime images.

The satellite feature is said to be one of the most prominent aspects. It will purportedly allow users to send short emergency SMS and SOS distress signals in remote regions in the event of catastrophes such as plane crashes or sinking ships. This may only work in locations where there is no cellular coverage, as well as in a limited number of markets. The feature is not expected to be available right away on the iPhone 13, but it will most likely be available next year. While the hardware support will be built into the iPhone 13 line, it will not be available for several months. Users will be able to use the iPhone 13 as a satellite phone, but they will not be able to make calls anywhere in the world until there is service.