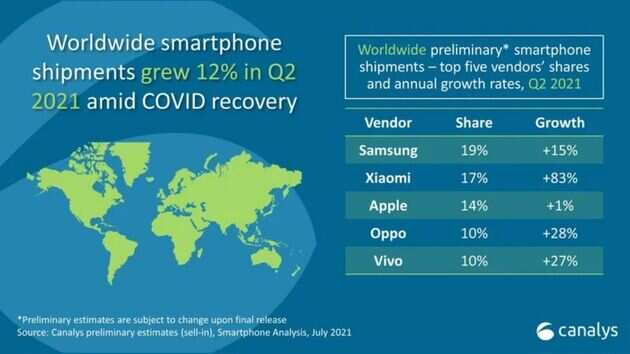 Smartphone sales from Samsung and Chinese smartphone producer Xiaomi topped Apple's iPhone sales, with Xiaomi topping Apple and taking the number two slot for the first time.
With a 19% market share and 15% growth, Samsung was the most popular smartphone vendor, while Xiaomi won a 17% market share thanks to an 83 per cent increase in smartphone sales during the quarter. Apple had a 14 per cent market share, followed by Oppo and Vivo, each with a ten per cent share.
Xiaomi's expansion is due to its global operations, which has increased shipments by more than 300 per cent in Latin America, 150 per cent in Africa, and 50 per cent in Western Europe. Xiaomi is recognised for offering more cost smartphones, with its average selling price being roughly 75% less than that of Apple's iPhones.

To overcome Samsung in the future, Canalys believes Xiaomi will need to expand sales of high-end devices such as the Mi 11 Ultra, which costs more than $900.

As a result, Xiaomi's top aim this year is to increase sales of its high-end devices, such as the Mi 11 Ultra. However, it will be a difficult struggle, with Oppo and Vivo pursuing the same goal and both ready to spend much on above-the-line marketing to promote their brands in ways that Xiaomi is not. All suppliers are working hard to guarantee component supply in the face of global shortages, but Xiaomi has already set its sights on the next prize: overtaking Samsung as the world's largest seller.

Global smartphone shipments fluctuate every quarter, with Apple and Samsung typically ranking top and second. Due to high sales of the iPhone 12 models in the fourth quarter of 2020, Apple was the world's leading smartphone seller in the fourth quarter of 2020, therefore Apple may overtake Xiaomi in coming quarters as the release of the iPhone 13 approaches.