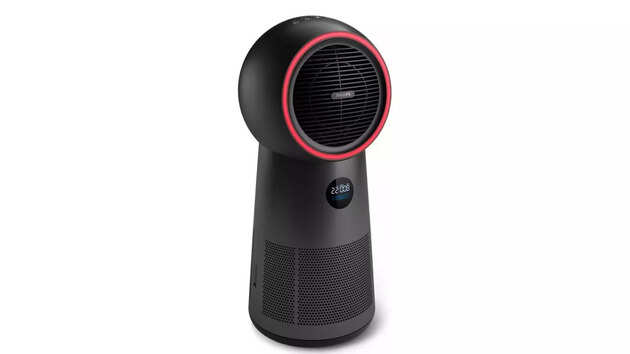 Philips's Domestic Appliances unit in India has launched an innovative multifunctional air purifier. The new Philips 3-in-1 purifier aims to keep homes healthy and comfortable with its multifunctionality modes i.e., purify, heat and fan. It is equipped with a 3-layer HEPA filtration system which claims to remove 99.95 percent of particles as small as 0.003 µm and purifies the air of viruses, allergens, pollutants, and the 350-degree rotating fan distributes the clean air across the room.
"The Philips 2000 series, 3-in-one air purifier cater to this set of consumers who are now privy to the health benefits of using air purifiers at home, all through the year, accompanied with the option of choosing heating and fan options. As a company, we are focused on creating product solutions and propositions that offer high value to the consumers and I'm confident that with this new range, we will further enable them to lead healthier, happier, and comfortable lives every day," said Gulbahar Taurani, Managing Director, Philips Domestic Appliances India Ltd.
Price and Availability

The Philips 3-in-1 Air Purifier is priced at Rs. 32,995. Consumers can purchase these from Philips Domestic Appliances e-store and partner retail stores.

Features

The 3-in-1 purifier comes with a multi-functionality feature that helps purify the air and brings the room to a comfortable temperature allowing it to be used throughout the year. The ceramic element in the purifying heater mode heats up the air in just 3 seconds in winters. The inbuilt purifying fan mode delivers a gentle stream of fresh air, ideal for making rooms experiencing warmer temperatures more comfortable.

The purification function of the air purifier is suitable for a room size of up to 215 sq feet. Purification performance of up to 165 m3/hr of Clean Air Delivery Rate (CADR) is driven by an optimum 360 degree airflow intake design and exceptional ultra-fine particle filtering efficiency.

The purifier also comes with a 3-speed setting to choose from fan levels: 7.5 W, 15 W, and 25 W or 3-speed heat levels: 1250 W, 1500 W, and 2200 W and 3 level settings for light control and display, offering more control to the consumers.