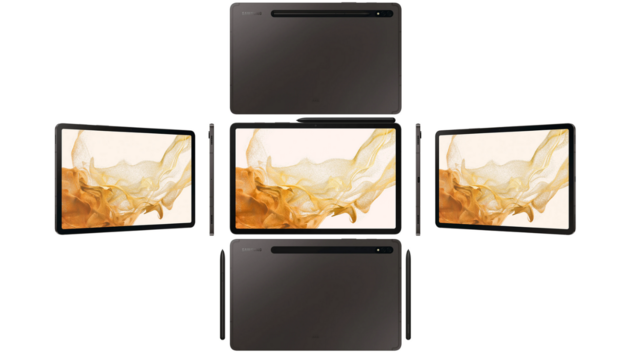 Several reports about the new Samsung Galaxy Tab S8 series have surfaced recently. The new tablets are slated to be launched in a week, but pricing information for the new line has been leaked ahead of time.
First and foremost, the Galaxy Tab S8 Ultra is currently available for pre-order in France, with the costliest variant retailing for EUR 1,699 (roughly Rs 1,45,200). This model has 512GB of internal storage and 16GB of RAM. It also comes with Android 12, an S Pen, a Qualcomm Snapdragon 8 Gen 1 processor, and a massive 11,200mAh battery. It sports a 14.6-inch Super AMOLED display with 2,960 x 1,848 pixels resolution and a 120Hz refresh rate.




The tablet is described as "in stock," however shipments are expected to begin after the Galaxy Unpacked launch event on February 9, 2022. Samsung's Galaxy Tab S8+, which has 8GB RAM and 128GB internal storage and costs EUR 999 (roughly Rs 85,400), is also available for pre-order from another French retailer, similar to the Ultra edition. It has a 12.4-inch Super AMOLED panel with a resolution of 2,800 x 1,752 pixels and a 120Hz refresh rate, and packs a 10,090mAh battery.

Finally, the vanilla Galaxy Tab S8 features an 11-inch LTPS TFT display with a 2,560 x 1,600 pixels resolution and a 120Hz refresh rate, as well as an 8,000mAh battery. It has been listed at EUR 970 (roughly Rs 82,900).