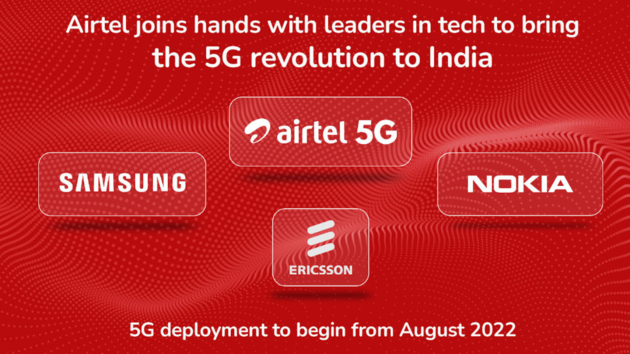 India will soon get 5G connectivity after years of waiting.
One of the biggest telecom service providers in the country, Airtel, has declared that by the end of August, 5G connectivity will be available throughout India.
The telco has inked a contract with Nokia, Ericsson, and Samsung to implement the 5G network.

"We are delighted to announce that Airtel will commence roll out of 5G services in August. Our network agreements are finalised and Airtel will work with the best technology partners from across the world to deliver the full benefits of 5G connectivity to our consumers," Airtel said in a press note.

For the records, Airtel recently paid Rs 43,084 crores to acquire a 19,867.8 MHz spectrum in the following frequencies: 900 MHz, 1800 MHz, 2100 MHz, 3300 MHz, and 26 GHz from the Department of Telecom in India.

The press release adds, "Choice of multiple partners will enable Airtel to roll out 5G services spanning ultra-high speeds, low latency, and large data handling capabilities, which will enable a superior user experience and allow the pursuit of new, innovative use cases with enterprise and industry customers."

As previously noted, Airtel has teamed up with network partners Ericsson, Nokia, and Samsung to provide 5G services in India. Across all mobile device generations, Airtel has used Ericsson's mobile communications services for more than 25 years. The South Korean juggernaut Samsung is a new addition, and Airtel will start working with it this year.

As there has been no formal confirmation from competitors like Reliance Jio and Vodafone Idea, Airtel will probably be the first operator to offer 5G services in the nation. According to speculations, Jio will launch its 5G services on August 15.