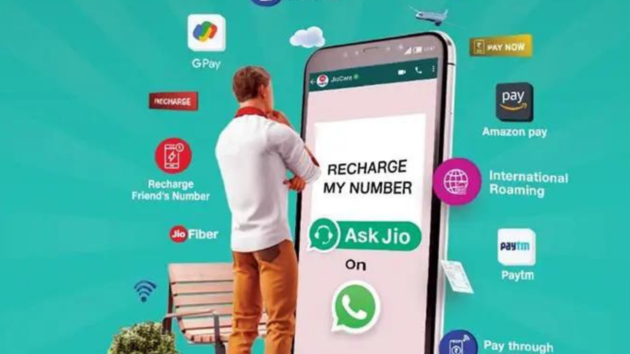 Jio users will now be able to get several services via WhatsApp. Jio users will now be able to access services such as Jio SIM recharge, get new Jio sim or port-in (MNP), support for Jio sim, support for JioFiber, support for international roaming and support for JioMart.
Consumers will have to save the number 7000770007 and simply send a "hi" from WhatsApp to avail the services. Reliance Jio Users can use these features in English and Hindi and will soon be made available in more Indian languages.
Users can even raise a complaint and get it resolved. The WhatsApp support will support a variety of payment options, including Google Pay (popularly, GPay), PhonePe, Paytm, Amazon Pay, e-Wallet, credit and debit cards.

By messaging 'Hi' to Jio's number 70007-70007, customers receive an introduction message, along with their current balance, data left and plan expiry date.

Meanwhile, WhatsApp has also released an update that enables WhatsApp VoIP (Voice over Internet Protocol) for Jio Phone and other KaiOS-based feature phones. The new feature is available to millions of smart feature phone users with the latest version of the app on KaiOS devices worldwide equipped with 512MB RAM.

Since its launch on KaiOS back in mid-2019, WhatsApp has been made available to millions of people in emerging markets for the first time. KaiOS users have been enjoying WhatsApp in the form of text messaging, voice messaging and sharing media. With the voice calling feature update, the app now allows voice calls over the Internet using Wi-Fi or mobile data, rather than pulling voice minutes from cellular plans.