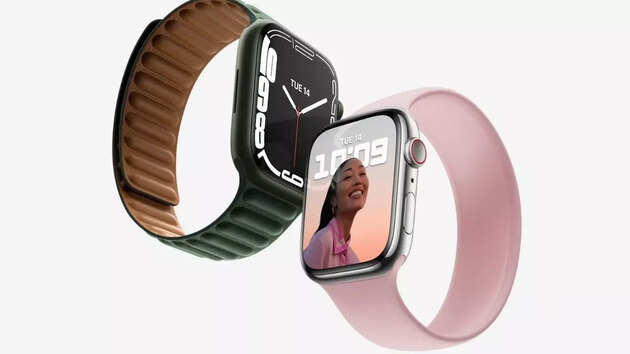 Apple has revealed the latest Apple Watch. The Series 7 now gets a design that is distinct from its predecessors in terms of appearance. The display now extends almost to the case's edge. That now means some watch faces will have a fresh new look.The display bezels are only 1.7mm thick, and the always-on screen mode is 70 per cent brighter. Apple boasts that the larger display can fit 50% more text than the Series 6, and it also offers new ways to engage, thanks to a full keyboard that supports swiping.

To take advantage of the larger screen, a new collection of watchfaces has been released, including one that is more modular.

The small Apple Watch went from 40mm to 41mm and the big Watch from 44mm to 45mm. That makes these watches the largest Apple Watches to date. In fact, the small Apple Watch is now just 1mm smaller than the largest one introduced back in 2014.

Like the Series 6 the new Series 7 will offer up to 18 hours of battery life and include a charger that charges via USB-C instead of USB-A.

The aluminium version will be available in a total of five colours: black, gold, blue, and red, as well as a dark green that matches the robust new design.

Apart from the premium Apple Watch updates, Apple has also included several new capabilities to Watch OS 8. When you stop at a light or just to take a break, outdoor cycling will now have greater assistance and should immediately suspend the activity. Fall support will now display in workouts, allowing the watch to notify emergency services if you crash your bike or trip up badly during a hard HIIT session.

The Watch Series 3 will continue to be sold for $199, while the Watch SE will cost $279, and the new Series 7 will cost $399.


Apple Watch Series 7
Summary
features
Water Resistant (Yes, IP Certified WR50) , Voice Control
price in_india
29000 INR
screen size
46 mm