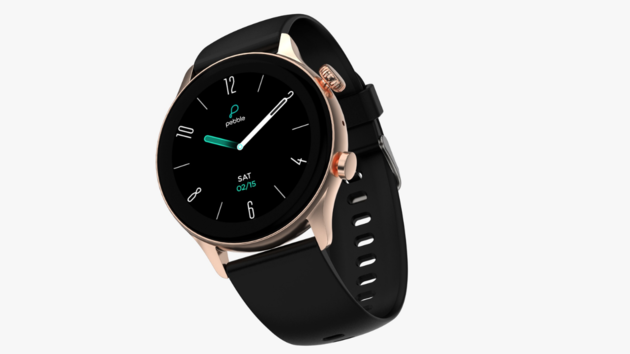 Pebble launches Cosmos Luxe Smartwatch in India with a stylish design and exceptional features. The device will be available in three colour variants: Ivory Gold, Midnight Gold, and Space Black.
The smartwatch features improved sensors and an elegant display with a zinc alloy body and durable glass for the best experience. Pebble Cosmos Luxe is the latest smartwatch in the brand's Cosmos series.
Since its inception in 2013, the company is creating products with an ideal balance of technology, innovation, and design. The company aims to offer this smartwatch as an alternative to the current designer analogue watches.

"We wanted to make sure the best-in-class technology is paired with a premium aesthetic to make the ultimate lifestyle smartwatch," stated Komal Agarwal, co-founder of Pebble.

Pebble Cosmos Luxe specifications, features
Pebble Cosmos Luxe features a circular 1.36-inch AMOLED display with 600-nits peak brightness for excellent viewing. The device comes with an AI Voice-Search Bluetooth calling system for better accessibility.

This smartwatch also claims to have multiple sports modes with various health monitors and a menstrual tracker. Furthermore, you can forecast the weather, control music and alarms, and get notifications on the wearable. It provides the data about steps, sleep cycle, heart rate, calories, blood oxygen level, and blood pressure.

Moreover, this stylish smartwatch comes in three colour options, has ten inbuilt watch faces and 50 in-app watch faces, and can last up to 7 days on a single charge.

Pebble Cosmos Luxe price, availability
The Pebble Cosmos Luxe smartwatch is available at Rs 3,999 for a fixed period, and customers can buy it from Flipkart. Yet, there's no official information from Pebble about the duration of the introductory period and the discounted price is revealed.