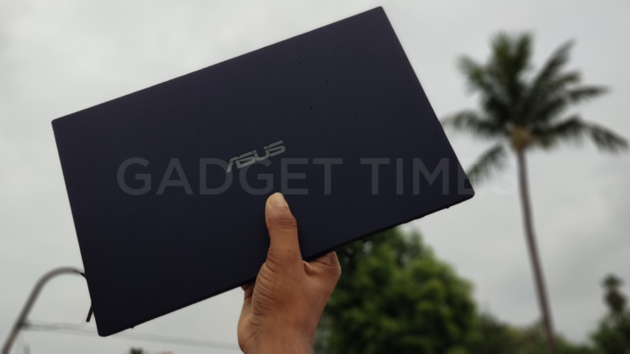 The global laptop market reached a value of about USD 103 billion in 2020 and is still expected to grow at a CAGR of 0.5 percent in the forecast period of 2021-2026. In India, the demand for laptops surged by 40-45 percent due to the work from home scenario, and the post COVID-19 conditions are inclined towards profitability as well. According to IDC, 2020 ended as the biggest year for notebooks in India with 7.9 million unit shipments. As for the top players in the market, Dell overtook HP in Q4 with 27.5 percent market share and it also led the commercial segment.
While it was a big year for everyone in the consumer segment, Asus only managed to take a 6.4 percent market share in Q4 2020 in India. Now to further expand its market presence in India Asus has launched its ExpertBook lineup with 11th-generation Intel Tiger Lake processors.




First announced at CES 2021 back in January, the 2021 upgraded ExpertBook series is pretty much like the premium ZenBook series but made for business consumers. The ExpertBook B9400 laptop was launched in April in India, and it is currently available at Asus Exclusive Stores and leading Commercial PC channel partners along with Flipkart as well as Amazon India. The pricing for ExpertBook B9 (2021) series starts at Rs. 1,15,498. We used the machine for about a week and here is what we think about the latest offering from the Taiwanese tech giant.

Asus ExpertBook B9: Design and Ports

In terms of design, we feel that the Asus ExpertBook B9400 scores really good marks, thanks to its simple and elegant look. Weighing just 1.005Kg and measuring 14.9mm in thickness, it is one of the slimmest and lightest laptops in the world with a 14-inch display. Because of its lightweight, the laptop comfortably sits in your lap and is easy to carry around. Furthermore, it comes with MIL-STD-810G certification, which means it can survive drops, shocks, vibrations, dust, heat, cold, high altitude, and humidity.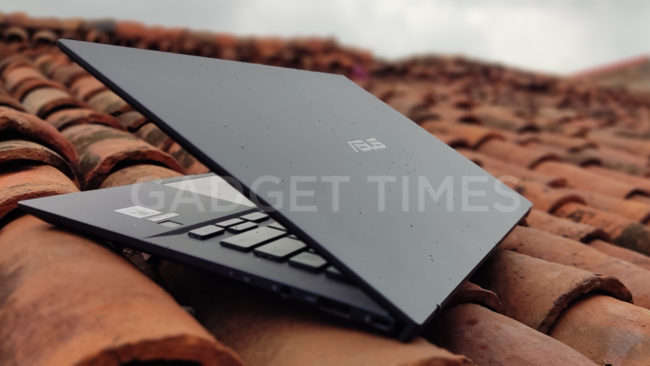 The company has used multiple layers of magnesium-lithium alloy for the notebook body. Also, Asus says the hinges and I/O ports are braced with heavy-duty stainless steel brackets, which is another bonus. In addition, rubber pads are attached to the laptop's motherboard and battery screws to dampen shocks.

Talking about the ports on the left edge of the laptop, you get two USB-C 3.2 Gen2 ports with Thunderbolt 4, an HDMI port, and a micro HDMI port that can be used as LAN via the micro HDMI-to-RJ45 adapter, which comes bundled in the box. On the right side, you get an audio jack, a USB-A 3.2 Gen2 port, and a Kensington lock.

Above the display, you'll find a standard webcam on the top bezel. Good thing is that there is a physical camera cover. Also, it enables face recognition to quickly unlock the machine, which is pretty quick. Additionally, it gets a fingerprint scanner on the right side of the palm rest.

You'll find two interesting things in Asus ExpertBook B9400. The first one is its Alexa LED lightbar. It lights up whenever you activate Alexa. It also serves the purpose of informing users about the battery status. Another one is its accessory box, which doubles up as a laptop stand because of its special folding design.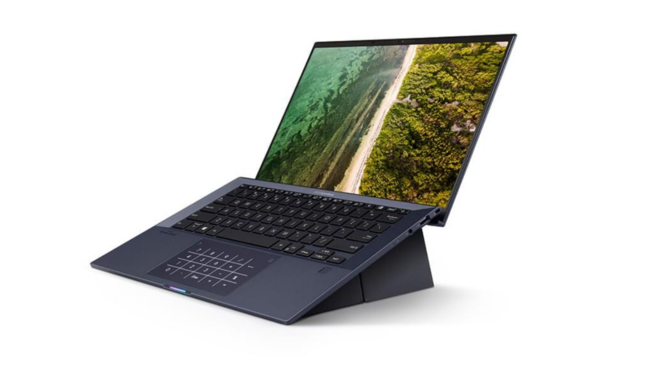 Keyboard and Trackpad:

The keys of the ExpertBook B9400 feature a subtle 0.15 mm dish-shaped indentation and a 1.5 mm key travel. The keyboard is well-spaced out and has good key travel. The laptop also comes with NumberPad 2.0, an LED-illuminated numeric keypad integrated into the touchpad. A single touch sensor at the top-right of the touchpad turns NumberPad on and off, and a tap on the icon at the top left lets you choose one of two brightness levels. One can also swipe from the top left icon in any direction on the NumberPad 2.0 to activate the Calculator app on the main display.

The touchpad of the laptop is extremely smooth and also supports Windows 10 multi-touch and multi-gesture inputs with up to 4-finger gestures, making it easy to switch applications or screens.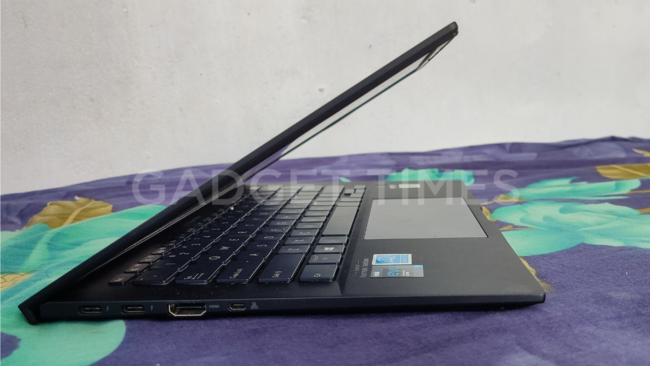 Asus ExpertBook B9: Display Review

The laptop features a 14-inch full HD 1920 x 1080 pixels display with incredibly slim 4mm NanoEdge bezels. This provides the maximum amount of display area in minimal body size, essentially fitting a 14-inch panel into a 13-inch chassis. It flaunts a 94 percent screen-to-body ratio.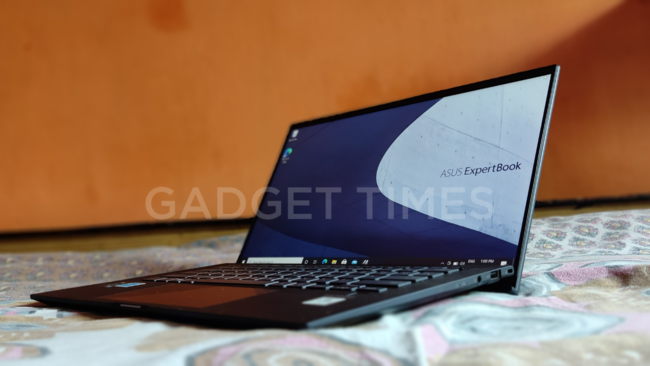 Apart from usual office work, we also used the notebook to watch OTT content, and honestly telling, we loved it. Its display will make you fall in love with the machine. The panel is bright, sharp and produces excellent colours in all light conditions. If you are travelling in a car during the daytime or working at home, you won't face any visibility issue. Asus uses 'Panel Self Refresh technology', which detects what's being displayed on the screen and adjusts picture accordingly. It also saves power usage for extended battery life.

Asus ExpertBook B9: Performance and Benchmarks

The laptop comes with a 10th Gen Intel Core processor and it runs on Windows 10. One can pick between SKUs of Intel Core i5 or Intel Core i7 processors. The one that we used had the Core i7 processor along with 16GB of LPDDR3 RAM and 2TB of PCIe 3.0 SSD. Trust us, this is an extremely powerful combination.

Many thin and light laptop storage specifications will only provide one M.2 slot or directly integrate the SSD on the motherboard. The ExpertBook B9400 features two PCIe 3.0 x4 NVMe M.2 slots and supports RAID 0 / 1, providing up to 7000 MB/s faster data transmission speed or a safer solution for data backup.

In PCMark 10 benchmark, the ExpertBook B9 managed to score 4957, beating most other notebooks in our list including the HP ProBook Aero 635 G7. The ExpertBook B9 did fall a little short on the PCMark 10's Digital Content Creation test.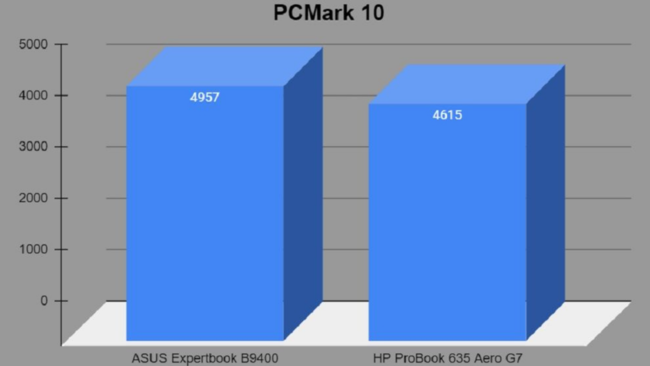 The Asus ExpertBook B9 comes equipped with Asus' WiFi Master Premium technology, which is claimed to be the faster wireless transmission. Not just that, Asus also has an exclusive WiFi SmartConnect and WiFi Stabilizer feature which takes care of network stability with greater distance. During our testing, we didn't face any problem with the network stability.

Other than that, the ExpertBook B9 packs 1W speakers on either side which are Harman Kardon certified and the clarity of the audio from the laptop is top-notch. Even more, it features AI Noise-Canceling Audio, which ensures that users can hear and be heard clearly in any scenario. We really liked the ClearVoice Mic function in particular. It lets the user select from one of the four modes: Normal, Basic, Single presenter, or Multi-presenter. What it does is that it filters out all ambient noise except human voices, so that users can hear and record more clearly — even if background noise is present.

Asus ExpertBook B9: Battery and Fast-charging

Battery life and charging are one of the most important aspects of any notebook in this era. As per Asus, the ExpertBook B9 offers a fast charge function that charges the battery from 0 to 60 percent in just under 40 minutes. However, in our testing, we observed that the ExpertBook B9 takes a little more time than the claim. It usually took around 55 to 60 minutes to go from 1 percent to 60 percent.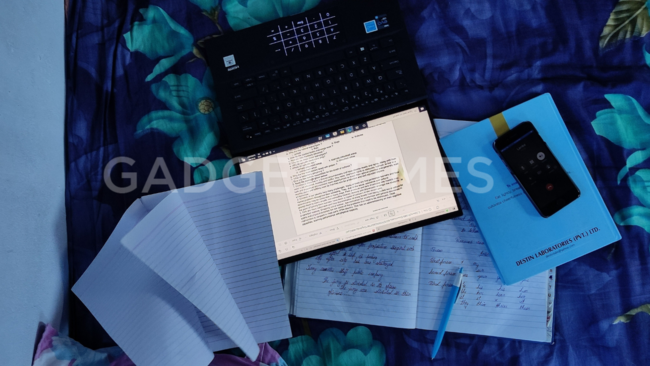 Talking about the battery life, we saw that during our daily moderate usage, we were able to get about 1.5 days out of a full charge (work time around 13-14 hours). Asus claims that the ExpertBook B9 includes Panel Self Refresh technology smartly saves energy by shutting down the video processor and its circuitry. This results in lower power consumption for longer battery life.

Verdict: Should you buy Asus ExpertBook B9 (2021) series?

Priced at starting Rs. 1,15,498, the latest Asus ExpertBook B9 is one of the premium range business laptop in the Indian market. It is certainly a beast of a machine in a compact and slim form-factor, which in our opinion is best suited for someone who is planning to buy a heavy-duty notebook for a business, content creation or even gaming. It offers the latest and greatest hardware with great performance, high-capacity storage and extended battery power — all in an incredibly light and compact body.

That said, the laptop market in India is full of options from different manufacturers ranging from MacBook to ROG. Especially in this segment, you can hardly go wrong with any of those. It only depends on what you need.

Next Article

Redmi Note 10S Review