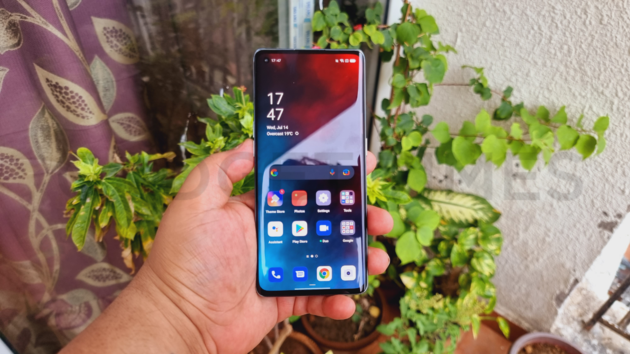 Oppo's mid-premium Reno smartphone lineup recently added Oppo Reno 6 Pro and Oppo Reno 6 as successors to the previous Reno 5 series. The emphasis for these phones remains on slimness and lightness, but they also have more powerful SoCs, latest 5G tech, and new camera functions to talk about. Oppo hasn't strayed too far from the tried-and-tested recipe that we've seen in the past, which is both good and bad. We'll go over this in further detail later in the assessment.
We got the Reno 6 Pro top-spec model to review and it is already available on sale in India. Oppo has been promoting its latest "bokeh video" feature which basically tries to replicate the soft background blur which we usually see on a DSLR or a mirrorless camera. The Reno 6 Pro also carries a lot of features from the Reno 5 Pro. However, the sub 40k price segment in smartphones is not the same anymore with multiple brands introducing more variants on the already existing variants. Is the Reno 6 Pro set for a fight? Here's our review.




Oppo Reno 6 Pro 5G: Design and display

We didn't wanna say it but the Reno 6 Pro gets an overly similar looking design as the Reno 5 Pro. It features the same thickness as the older model which is 7.6mm, a similar-looking curved front panel and a textured back panel. The weight has increased to 177 grams, although I feel it is still better than many phones in this segment.

The frame gets a chrome lining with Corning Gorilla 5 upfront. The back panel gets a shimmery dusty touch which usually looks bluish but bursts into multiple halo shades when light falls on it at certain angles. We had the Aurora colour unit and we must say - the phone looks very pretty. Usually, design repetition is not something we would advise but Oppo has clearly gone for an "if it ain't broke, don't fix it" vibe - and that shows. The Reno 6 Pro does look good.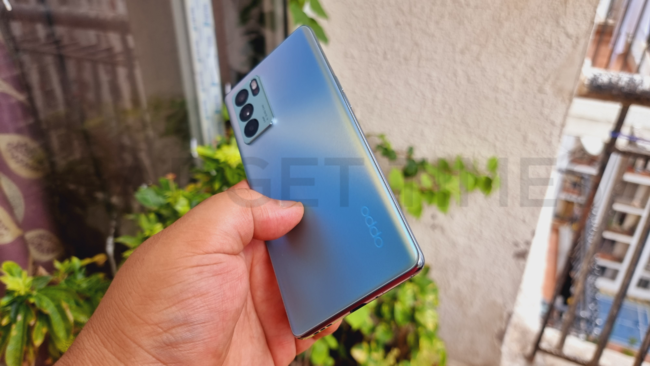 The frame is plastic but the front and back are glass which makes it quite weighted to hold. The ergonomic quotient is quite high and we did like the quality of the build of the Reno 6 Pro. The bottom edge packs the usual - charging port, speaker grille, mic, and SIM tray. There is no headphone jack.

The display is an AMOLED so plus points there. The Reno 6 Pro gets a 6.5-inch full HD+ AMOLED panel with a 90Hz refresh rate. It also gets HDR10+ certification with a 180Hz touch sampling rate. If you remember, this is similar to the Reno 5 Pro - so Oppo is not fixing what is not broken. Ok. Cool.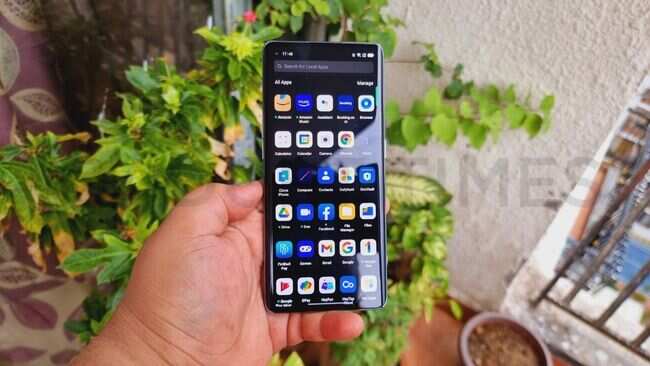 The bezels are slim at the sides and since it's a curved display - the overall design makes it quite evenly matched - essentially making the Reno 6 Pro one of the best-looking mid-rangers out there.

There is an in-display fingerprint that works decently well and there is an AOD function as well. The basic slim design carried from the Reno 5 Pro still very much catches brownie points - so much so, that we have the phone as our second daily driver.

Oppo Reno 6 Pro 5G: Software and performance

One of the major upgrades the Reno 6 Pro gets this time over the 5 Pro is the new MediaTek Dimensity 1200 chipset. The 5 Pro was powered by the Dimensity 1000+ chipset while the new 1200 gets a 6nm manufacturing procedure as compared to 7nm for the former. The CPU configuration gets an overhaul with slightly more powerful ARM Cortex-A78 cores. GPU performance is slightly better and you can see them every day in those smoky live wallpaper animations.

The Reno 6 Pro also gets what Oppo calls is a new colour temperature sensor with an ambient light sensor - both on the front and back of the smartphone - helping for better and accurate auto-brightness adjustment.

The Reno 6 Pro still misses out on stereo speakers - something which we missed out on the Reno 5 Pro as well.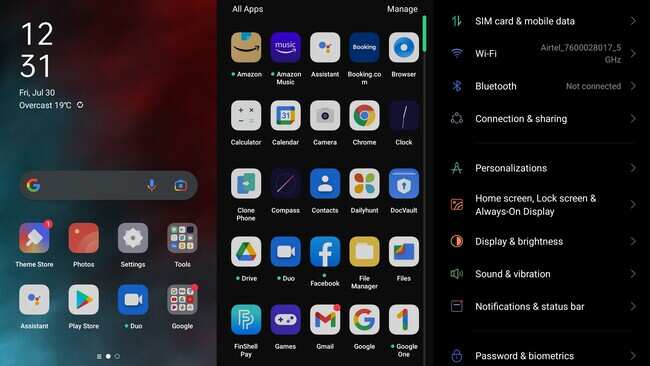 The Reno 6 Pro operates on the latest ColorOS 11.4 which comes with its usual customization options, AOD display, animations, and more. There are a bunch of pre-installed software and a gaming mode which blocks unwanted calls and messages when you are knee-deep in enemy blood in Erangel.

Some instances show that ColorOS has transcended from what essentially we call the OxygenOS, from OnePlus. The AOD Portrait Silhouette feature is basically a renamed Canvas AOD found on OnePlus phones. Also, the gaming app which was called Game Space is now called Games. Overall, the 6 Pro still brandishes a lot of bloatware for our liking which results in spam notifications. What's worse? some apps cannot be uninstalled like Browser or the Theme Store.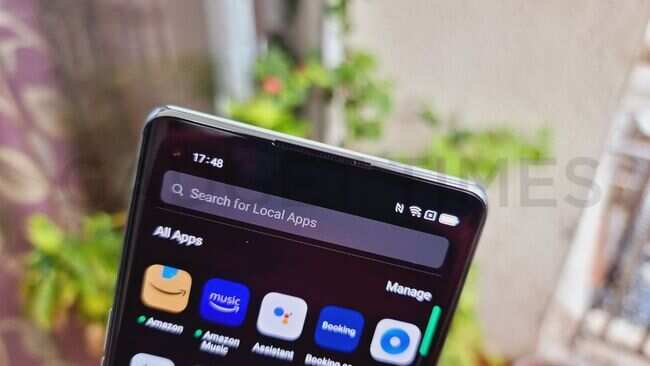 Using the Reno 6 Pro as our daily driver for over two weeks was a great experience. We used it for our calls, messages, social media, YouTube, Spotify, and more. Never during our experience did we feel the design needed something more. The slim design coupled with the smooth interface of apps and its transitions made it a breeze.

The fingerprint sensor is quick, and so was the facial recognition. Overall performance in our daily usage did not bring any hiccups, or frame laps, or freezes. We were able to run heavy titles like BGMI, Asphalt 9 with ease. The 90Hz display made everything just smooth - and the overall performance was one of the best we have encountered in a long while.

Oppo Reno 6 Pro 5G: Camera review

The camera specifications on the Reno 6 Pro are exactly the same as the Reno 5 Pro. It gets a 64-megapixel shooter, an 8-megapixel ultra-wide, a 2-megapixel macro, and a 2-megapixel monochrome sensor. There is a 32-megapixel front camera. There is no OIS or EIS on offer and neither does it gets a telephoto camera.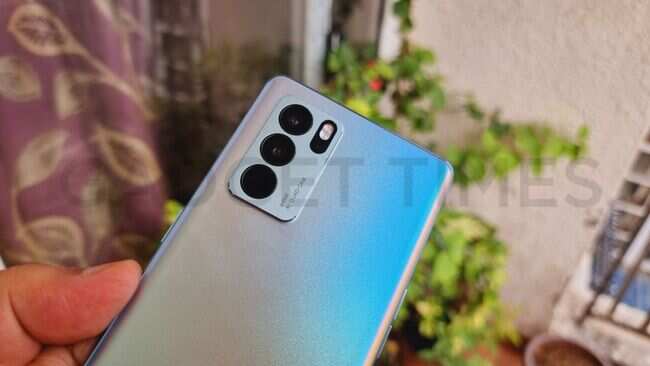 The Bokeh Flare Portrait filter works well on the isolation of the subject from the background - giving it an effect which we see usually on heavy focussed subjects shot from on a DSLR. Overall daylight performance of the camera is pretty good. Images look sharp and detailed with adequate colours. The white balance looks good on images from the primary sensor. The ultra-wide does get slightly weaker shades with details below average in quality. Checkout a few camera samples below: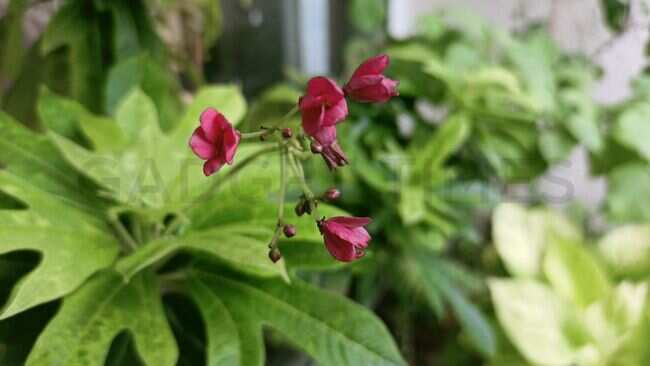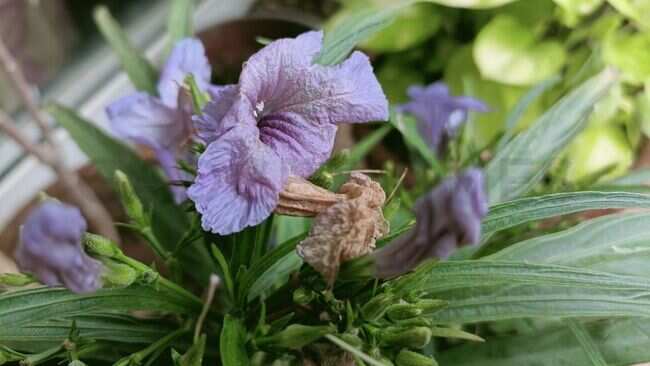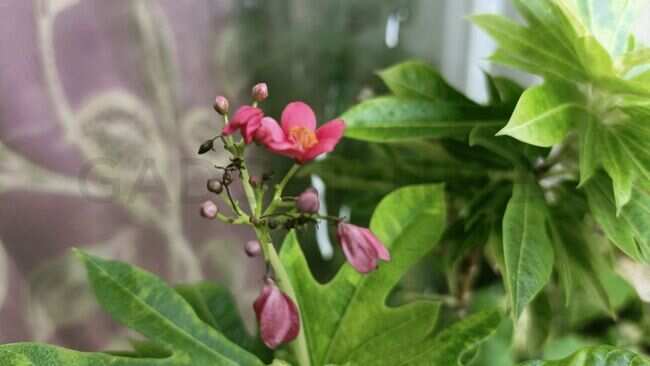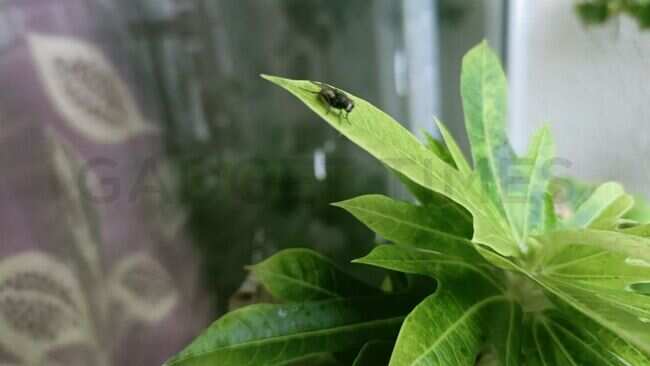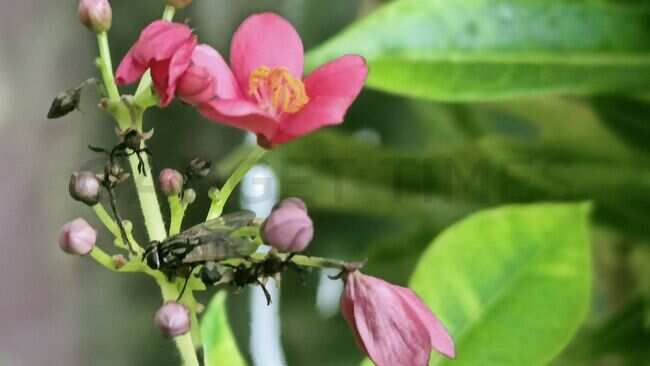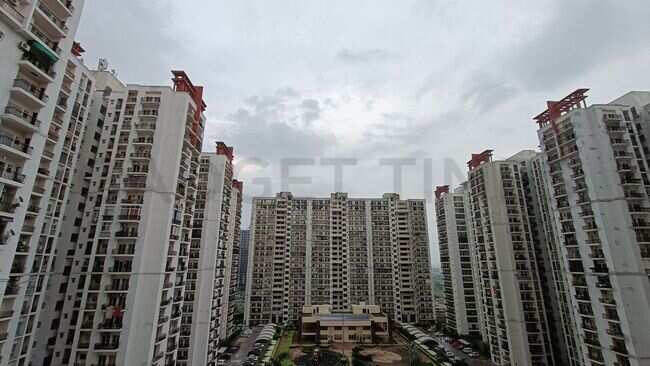 Low-light images looked pretty decent. We did try shooting without the night mode and we were pleasantly surprised with the amount of detail the Reno 6 Pro was able to take in. Of course, the OIS feature was missed and we think the addition of OIS would give it a major fighting chance in the sub-Rs 40K segment.

Oppo Reno 6 Pro 5G: Battery and charging performance

The Reno 6 Pro gets a slightly larger 4,500 mAh battery than the 5 Pro and also features a massive 65W fast charging brick in the box. The battery life was solid during our testing time and we were able to get through an entire day of usage involving social media, video streaming, gaming, and such.

The better part was the charging speed. We were able to charge the Reno 6 Pro to around 95 percent from 15 percent in approximately 30 minutes. We also charged the Reno 6 Pro from a low battery switched-off status to a full 100 percent in around 40 minutes. Overall, the battery and its charging support are very impressive in the Oppo Reno 6 Pro 5G.

Verdict: Should you buy Oppo Reno 6 Pro 5G?

To be honest, Oppo Reno 6 Pro feels like an average mid-range smartphone that gets a modern design like others, a decently performing chipset, and a good battery life. Having said that, the smartphone still misses out on stereo speakers and Optical Image Stabilisation (OIS) for the price range it comes in. Also, Oppo has preloaded a bunch of bloatware that cannot be uninstalled. Now when you look at these points, the positives might outweigh the negatives for some consumers but some might find it a deal-breaker as well.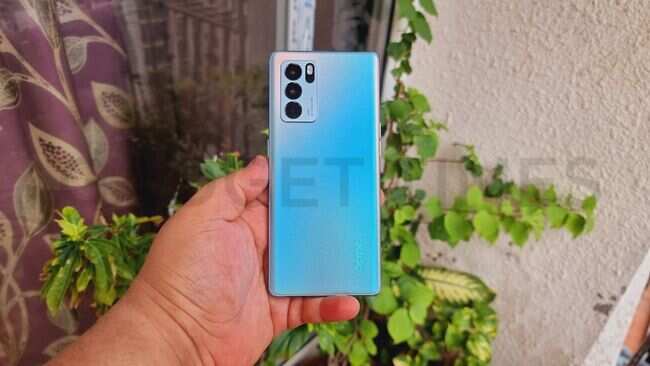 At the end of it all, the Reno 6 Pro really felt solid to me with its glass sandwich design. Plus, I feel that the ergonomics are better than most phones in its class. That said, at Rs. 39,990, I feel Reno 6 Pro is slightly expensive especially comparing it to a list of smartphones in the 40k segment, which now had more choices than ever. Anyone who is looking at Oppo Reno 6 Pro should also look at the Xiaomi Mi 11X Pro, Mi 11X, Realme X7 Max, the OnePlus 9R, and the recently launched Poco F3 GT and the OnePlus Nord 2. Our bet would be more on OnePlus phones, but these all are good options in different ways.

Next Article

iQoo Z3 Review